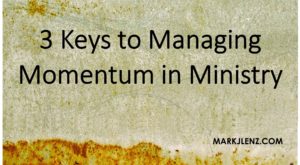 One of the most valuable forces in any organization is momentum. When a local church is energized by prayer, the power of the Holy Spirit, and momentum, it becomes a great force that the gates of Hell cannot withstand.
Webster defines momentum as the "strength or force gained by motion or by a set of events." In other words, momentum is powerful. Physics tells us that momentum is the product of an objects' mass and velocity. The heavier the object and the faster it moves, the more momentum it creates.
Think of momentum as a person standing at the top of a hill and kicking a ball. With one small kick the ball starts rolling…and keeps going. That's momentum. Not having momentum is like standing at the bottom of that same hill, and kicking the ball up. If you don't chase after it and kick it again quickly, it will stop rolling and begin to tumble back to where you started.
In Paul's ministry, there were times when things rolled really well. He'd touch a handkerchief and someone would bring it to a sick person. And the person got well! But there were also times momentum seemed absent. People openly rejected him, opposed him and became abusive.
If you have momentum on your side, you know it. If you don't have it, you undoubtedly wish you did. Since momentum is a critical contributing factor in a successful church, here are three keys to managing momentum in ministry.
Building It
First of all, how do you build momentum? Sadly, it doesn't come easily or quickly. In his #1 best seller, Good to Great, author and researcher Jim Collins describes building momentum in an organization. He tells readers to imagine pushing a big, heavy metal flywheel. Lots of energy is exerted, yet because of its great weight, the flywheel only moves a few inches. But with repeated, consistent pushing, the flywheel slowly begins to move, and gain momentum. "Each turn of the flywheel builds upon work done earlier, compounding…invested effort," says Collins. "Then at some point – breakthrough!" He says that momentum will finally kick in, in your favor. The heavy weight now begins working for you. Continue reading →