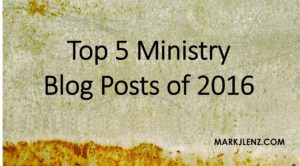 My passion is to bring clarity and focus to ministry and mission. I accomplish this by doing church consulting at Interactive Church Consulting, and by blogging. Here are my top 5 blog posts of 2016 that help churches and ministries both honor God and inspire people.
3 Layers of Ministry
Contemplating the importance of three critical aspects of ministry.
Clarifying Church Growth Terminology
What exactly are we talking about when we talk about church growth?
Categories of Beliefs, and Why Separating Them is Important
Which beliefs will you discuss, defend, and die for?
3 Kinds of Church Staff Members
Maximizing the effectiveness of the experts, managers, and leaders on your ministry staff.
Got Clarity? (Part 2)
How creating clarity in systems increases ministry efficiency.