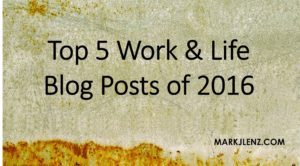 In over 30 years of ministry, I've noticed that many wise ministry principles can relate to work and life in general, and vice versa. Here are my top five blog posts of 2016 that contain wise principles for work and life. Enjoy!
Riding the Wind of the Spirit
What windsurfing teaches us about listening to God.
3 Simple Questions to Help Address Complex Issues
Very complex issues are best addressed by asking and answering very basic questions.
3 Principles of Productivity
Things to consider when making decisions and taking action.
Delegating Versus Releasing Authority: What's the Difference?
Why releasing authority is better than delegating tasks.
6 Key Areas in Which to Develop Margin
How to replenish your energy by developing margin in your life.