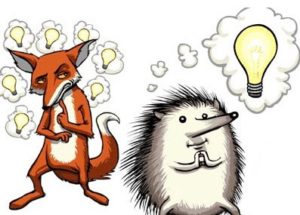 In Jim Collin's classic book, Good to Great, he introduces readers to the idea of a Hedgehog Concept. Collins says the idea came from a famous essay by Isaiah Berlin called "The Hedgehog and the Fox." It's based on the ancient Greek parable: "The fox knows many things, but the hedgehog knows one big thing." The fox uses multiple ideas and numerous strategies in its battles with the hedgehog. But, says Collins, the hedgehog always wins by using one simple, surefire approach – curling up into a ball. When the hedgehog employs this defensive position, it exposes his sharp spikes to deter attacks from predators. Despite the many and varied tactics the fox uses, the hedgehog always emerges victorious by using his one, focused strategy.
Collins goes on to say that the idea of a Hedgehog Concept has helped successful companies define who they are, focus their energies and become more successful. They do this by answering three critical questions. 1. What are you best at? 2. What are you most passionate about? 3. What drives your economic engine?
Developing a Hedgehog Concept for churches can be extremely valuable. As churches grow, they naturally drift towards complexity. So the need to define and embrace a Hedgehog Concept will help define vision and mission, give a framework around resource allocation and give clarity to critical decision making.
I was part of a church that used the Hedgehog Concept. The senior leaders asked the three questions. After much time, thought and prayer, their answers were incorporated into the culture of the church and helped the church in a major season of growth.
As church leaders who want to bring increased levels of organizational health to your churches, encourage your leaders to wrestle with these three questions.   Continue reading →