As church leaders, we often hear many good ideas to further the mission of the church. And most of them probably are good ideas. The trick is determining which ideas are the best.
In the church, opinions and options seem endless. Everyone has a brilliant plan or groundbreaking idea that should be implemented right away. However, author Chris McChesney said, "There will always be more good ideas than there is capacity to execute them."
It's easy to say yes. But how do you decide when to say no?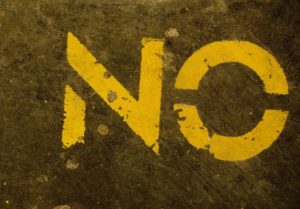 Author Larry Osborne gives us a clue. In Sticky Leaders he says, "If something doesn't take us toward our mission, it takes us away from our mission, even if it's a great idea." If we say yes to too many good ideas, we quickly lose focus. Too many options overwhelm people, divide attention, and dilute impact.
Saying no can be the most difficult, yet most critically important part of ministry.
So why don't more churches say no? Why is saying no so difficult? Below are two reasons church leaders find it difficult to say no.
They don't want to be the bad guy
Christian leaders are supposed to be nice, right? Yet it somehow seems "unchristian" to deny a person's sincere request or good idea.
Leaders need to decide if they're called to be nice and fulfill everyone's wants, or called to be focused and direct people to what they need. An alcoholic wants a drink. But a drink isn't what he needs. He needs rehab and should be directed there.
It's easy to misunderstand the difference between needs and wants, and many churches confuse the two. Continue reading →